The regular school board meeting will be held on Thursday, November 12, 2020 at 6:00pm. If the meeting must be conducted via Zoom, a notice will be published on the website and a Remind will be sent.

Emergency Board Meeting: this meeting is by zoom if you would like an invitation and passcode, please call or text Debbie at 320-522-3773. Purpose is to authorize change in status to distance learning related to MDE's COVID instructions.
Emergency School Board meeting, Monday, August 3, at 6:00, to discuss scenarios for re-opening.

Please read the attached update from the Governor on the Insulin Safety Net Program.​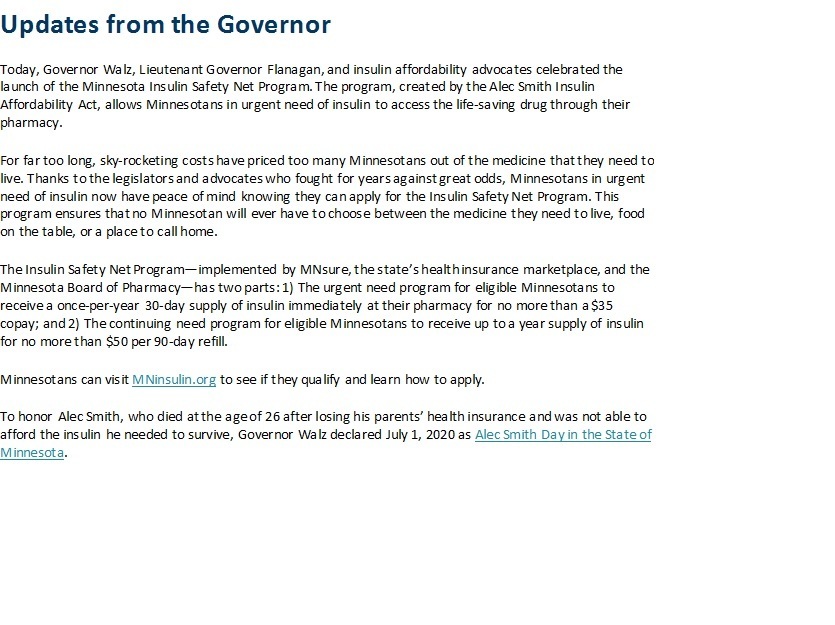 ​The regular school board meeting will be held on Thursday, July 16, 2020 at 6:00pm. If the meeting must be conducted via Zoom, a notice will be published on the website and a Remind will be sent.

We are looking for local growers who are willing to sell produce to our school in the event we are funded for extended lunch service though the summer! Please contact Dawn Fischer at 507-925-4143 or
DFischer@echo.charter.k12.mn.us
.

The ECHO Charter school is asking for face mask donations for the upcoming school year. If you are willing to donate, please contact Helen Blue-Redner at 507-925-4143 or
HBlue.Redner@echo.charter.k12.mn.us
.​

​Come join the school for a free come and go lunch lunch for families, businesses and the community!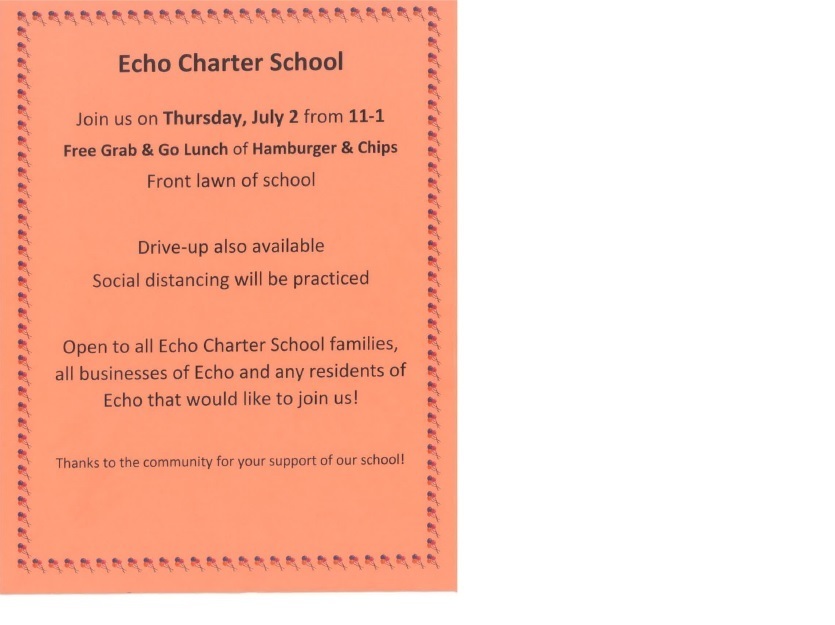 Hello Helen, I am the project manager for the Highway 67 failure between Granite Falls and Echo. MnDOT closed Hwy 67 near the Upper Sioux Agency State Park in spring 2019 due to a large slope failure. We have been monitoring the movement and analyzing what would be required to correct the failure; we have determined that due to cost and impacts that it is not feasible to repair the roadway in place. MnDOT is recommending permanently closing Hwy 67 and rerouting on other State Highway and County Road (see attached fact sheet). I recognize that this may impact operations at Echo Charter Shool, particularly with bussing students. Can you please pass along this information to those who would be impacted and let me know if there are any questions or concerns. If needed, we can set up a meeting for me to discuss the project in more detail. We are currently working with surrounding local governments, and over the next few weeks we'll begin public engagement. Thank you Cody Brand, P.E. Soils Engineer | District 8 Cell Phone (320) 979-4720 Minnesota Department of Transportation 2505 Transportation Road Willmar, MN 56201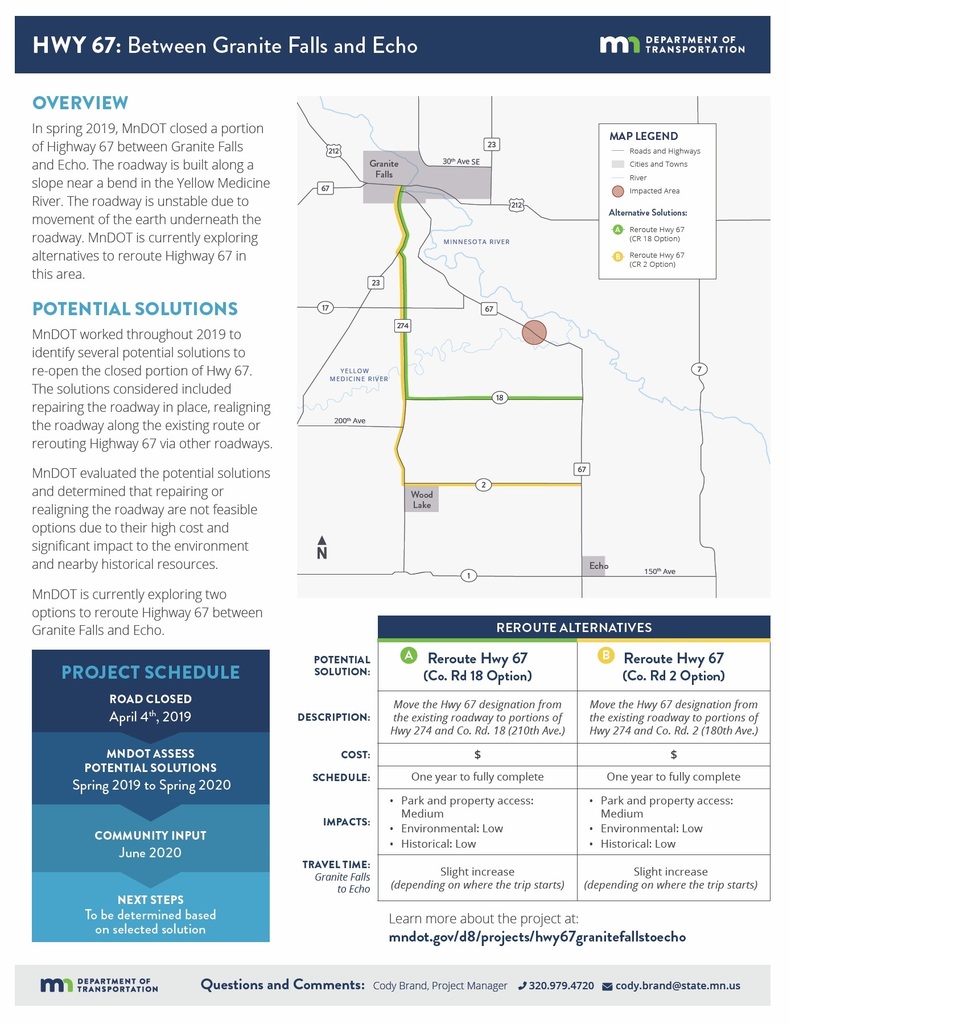 News from the State of Minnesota! Make a Plan, Minnesota Updated June 8, 2020 As Minnesota perseveres through the COVID-19 public health crisis, we know that more people will become sick and require hospitalization. We need families to be prepared. In other states, countries, and communities in Minnesota, there have been parents who have become too ill with COVID-19 to care for their children for short periods of time. These circumstances present a need to identify alternate caregivers who can step in to help care for children – who have likely been exposed to the virus. Unfortunately, this virus doesn't always leave time for people to make plans. We're urging all Minnesotans who are responsible for the care of a child to make a plan now for alternate short term care for their children in the event parents or guardians become ill. To support families in this process, we've developed Make a Plan, Minnesota. Make a Plan, Minnesota helps guide families through a process to identify possible caregivers, gather vital family and child information, and share their plan with others. A fillable form is included to help families gather information that an alternate caregiver might need to know while caring for their children. It's never too early to make a plan. Before the emergency is upon a family, we urge families to talk now with their support networks about who will be able to step in and help provide care for their children or other supports, such as dropping off meals or checking in with the children daily if a parent is quarantined at home. Make a Plan Minnesota! Plan. Prepare. Share. Make a Plan Minnesota: Emergency Family Planning and Information Kit

Families who qualify for Free/Reduced Meals—read this important message from the State of Minnesota! Pandemic Electronic Benefit Transfer (P-EBT) The Minnesota Department of Human Services is now offering additional funds for the families of children ages 5 to 18 who qualify for free and reduced-price meals. This new program, called Pandemic EBT (P-EBT), will provide $325 per child that families can use to purchase nutritious food for their household. Families with children who received free or reduced-price meals at school, and who were between the ages of 5 and 18 on Sept. 1, 2019, may qualify. Benefits are available to two groups: • Families receiving Minnesota Family Investment Program (MFIP) or Supplemental Nutrition Assistance Program (SNAP) benefits on March 18, 2020. Benefits for these families were issued automatically and appeared on their EBT balance on May 30, 2020. • Families receiving free or reduced-price school meals, but not SNAP or MFIP benefits. These families need to fill out a short application for a P-EBT card. Families can apply between June 8, 2020, and June 30, 2020. If approved, families will receive a P-EBT card in the mail, which will arrive with the funds preloaded.

Grocery Assistance Program Minnesota Department of Human Services is offering a grocery assistance prgram. Pleases read the attached flyer for more information! Thumb f4cfb138 6d0b 4928 9cdd 6213f3d804a6

Congratulations to the Class of 2020! ECHO Charter School graduation will be Friday, July 24,2020 at 7pm. More details to follow at a later date!​

2020 Senior Recognition Night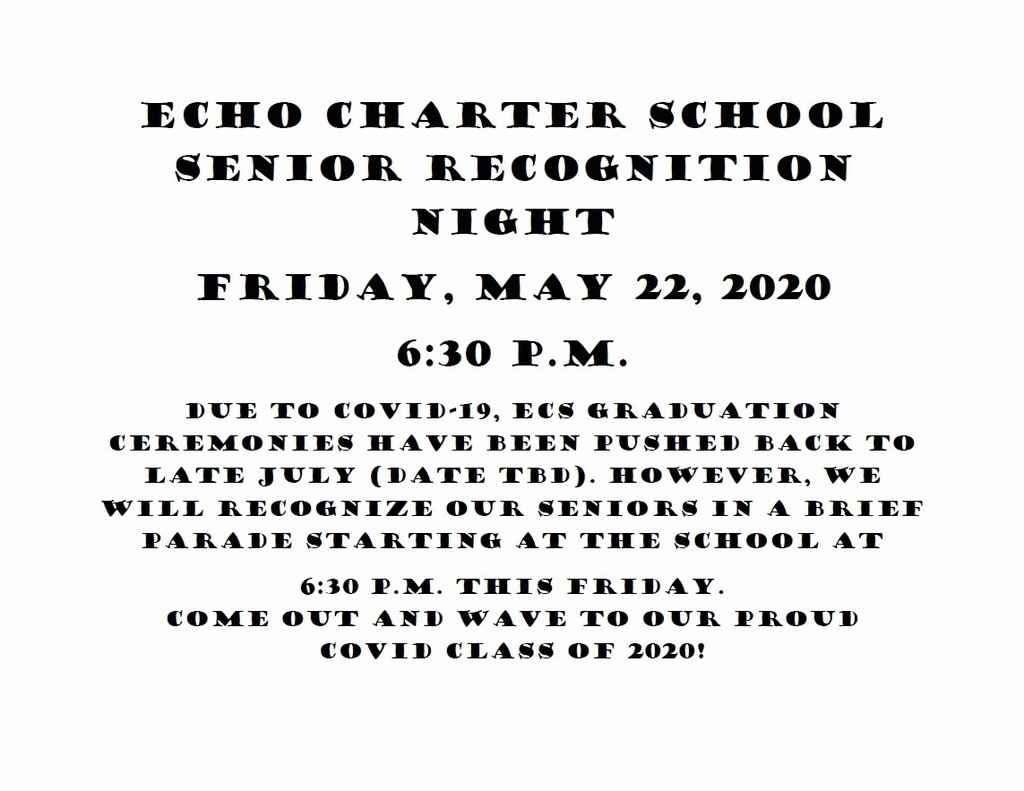 Kindergarten Registration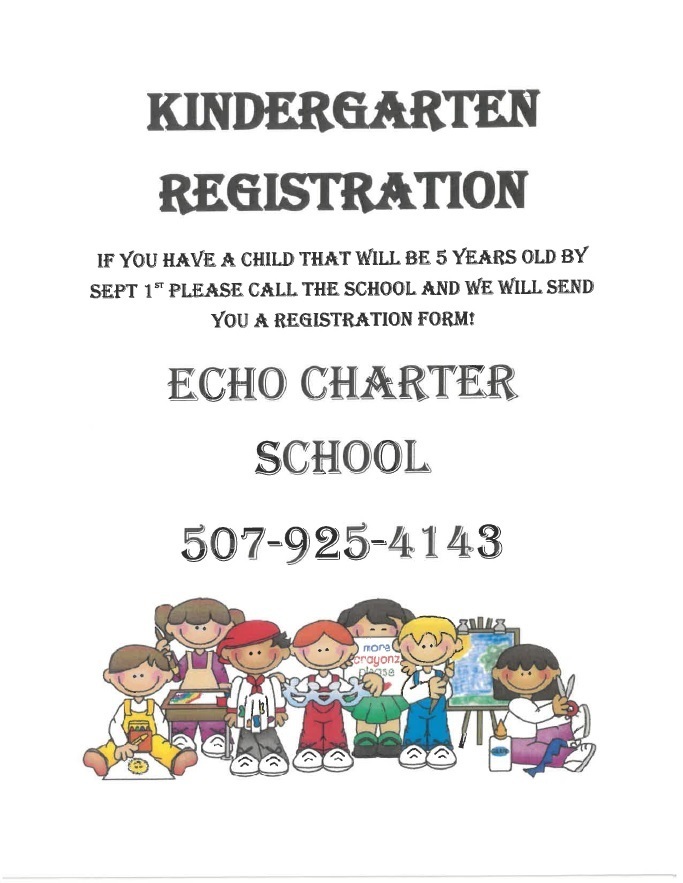 Thursday, May 14 there will be a regularly scheduled board meeting at 6pm on Zoom due to COVID-19 Pandemic. We will start with a working session at 5pm related to 2020/21 planning. If you are interested in attending send a message to this account, Debbie Eakes or text me at 320-522-3773 for the link and password.

We need fun pictures of what you have been doing during this Covid-19 quarantine time. We would like to capture this bizarre time and put it in our school yearbook. Please send your pictures to
Echoyearbook1@gmail.com
and we'll take care of the rest. Thank you very much, Haylea, Maddie and the Yearbook class

A password has been added to tonight's zoom board meeting to prevent ZoomBombing. If you would like to attend, text me and I will provide you with it. 320-522-3773