In-person classes begin for Grades 7-9 on Tuesday February 23, 2021.

Monday February 22, 2021 is a Staff Planning Day. No daycare or homework help today.

Homework and lunch delivery will be two hours later than usual today Tuesday February 16th.

Day care, homework help, and all transportation will be two hours late today Tuesday February 16th, due to wind chill.

No daycare or homework help today Thursday February 4th. Due to road and weather conditions, school is closed today. Students should work on assignments they were given for the week.

Homework Help is available for ECHO Charter School students. ALL ECS students are eligible for Homework Help days--no matter if you are on top of your work or behind in your work! Students can come on a Monday-Tuesday or Wednesday-Thursday schedule. We provide transportation, food, and you provide the elbow grease! Get those pesky school assignments caught up so that you can: 1. GRADUATE ON TIME; 2. Advance to the next grade; 3. Feel good about yourself!

Vaping COVID 19 Parent Information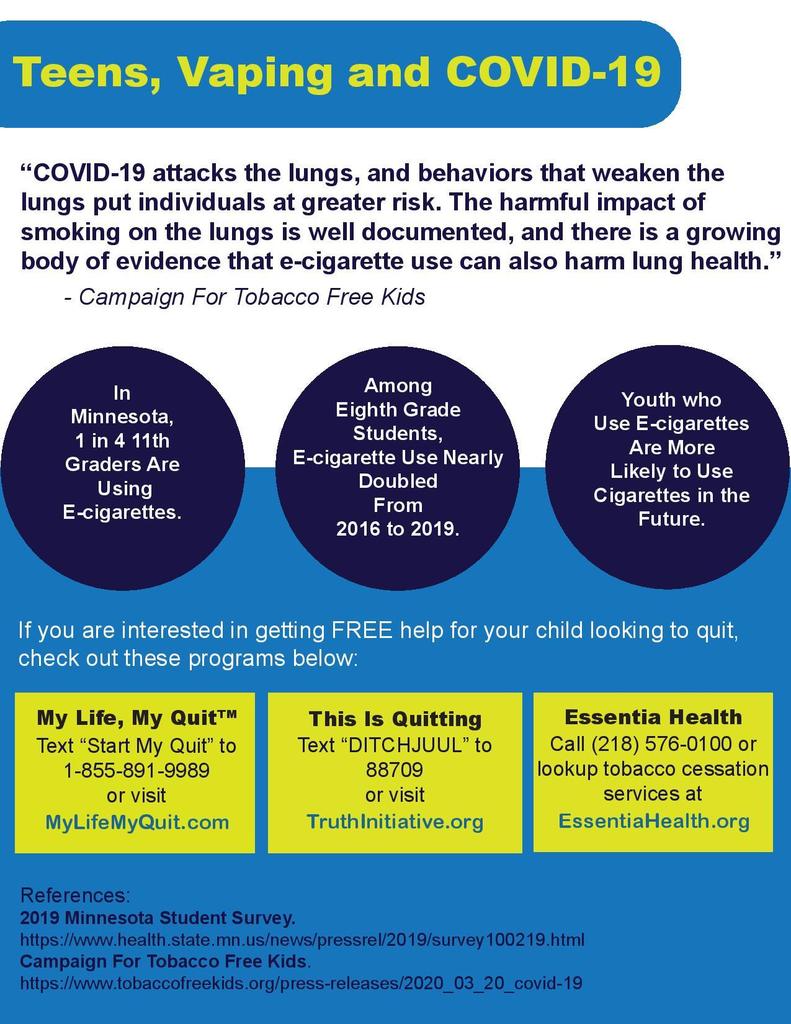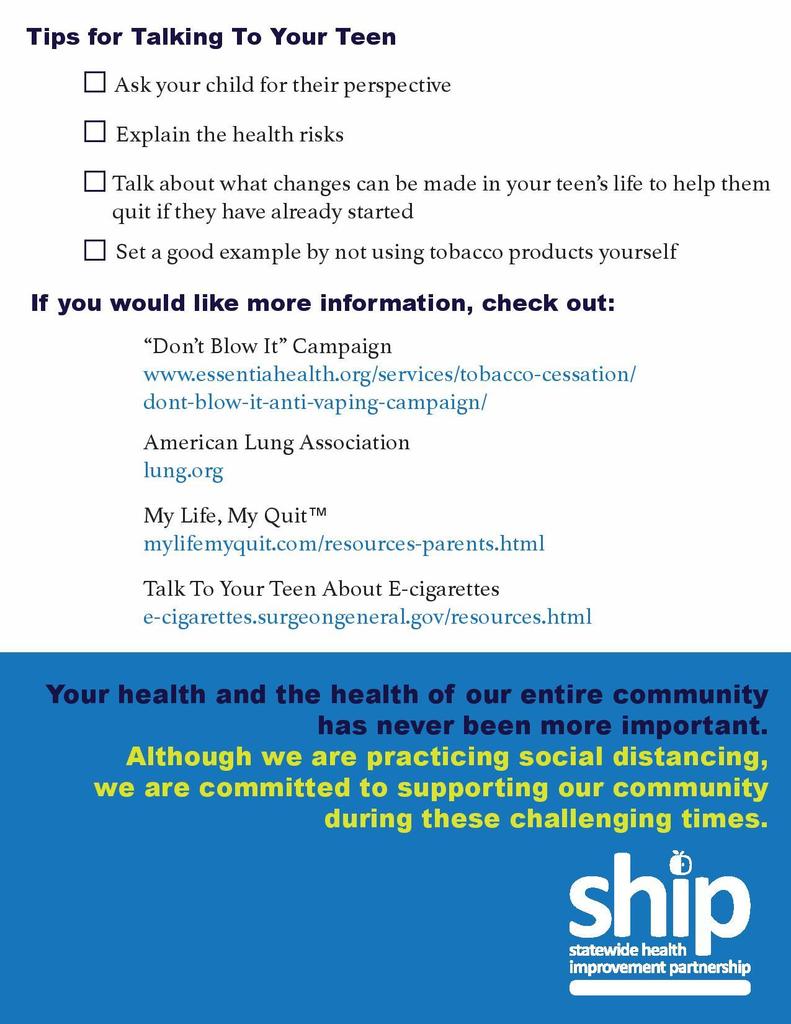 Youth Tobacco Use during COVID 19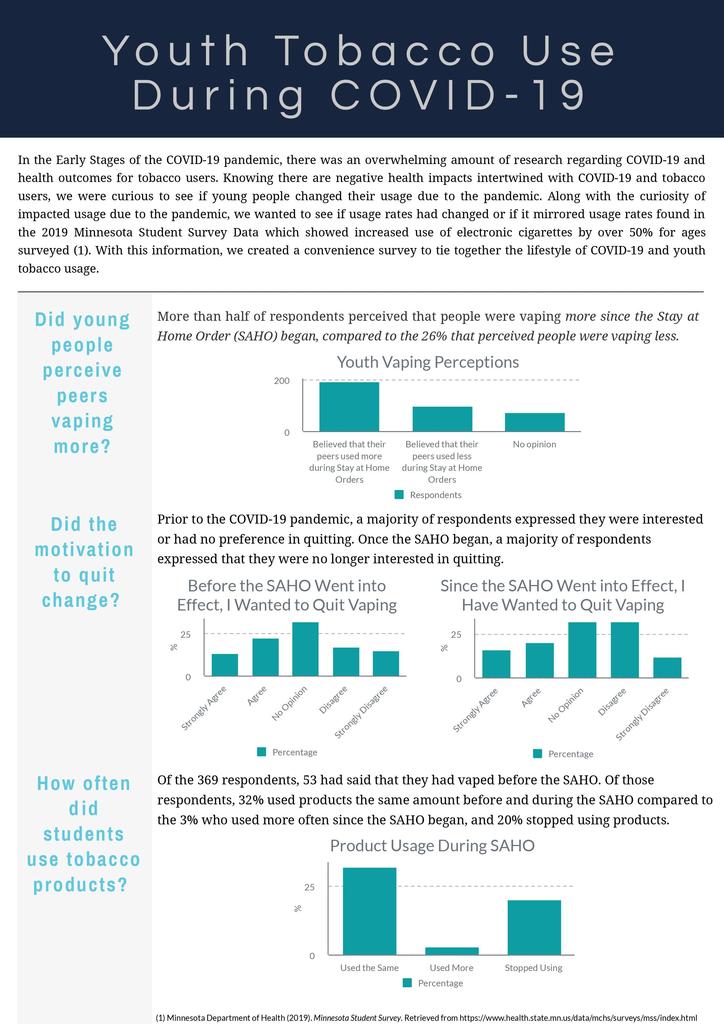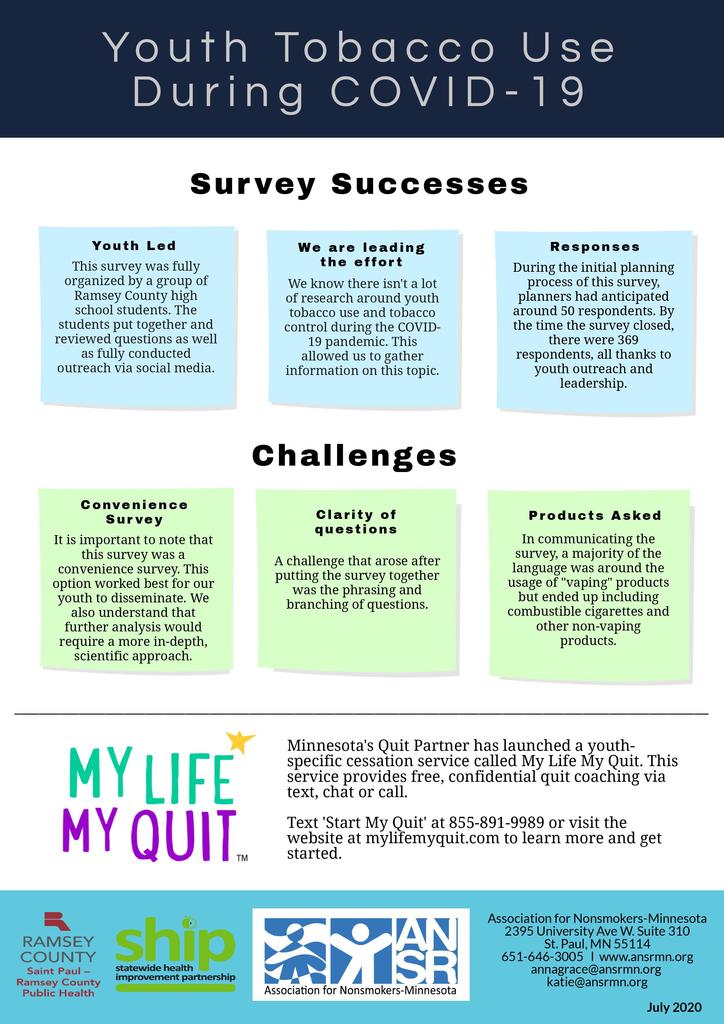 Vaping Education January 2021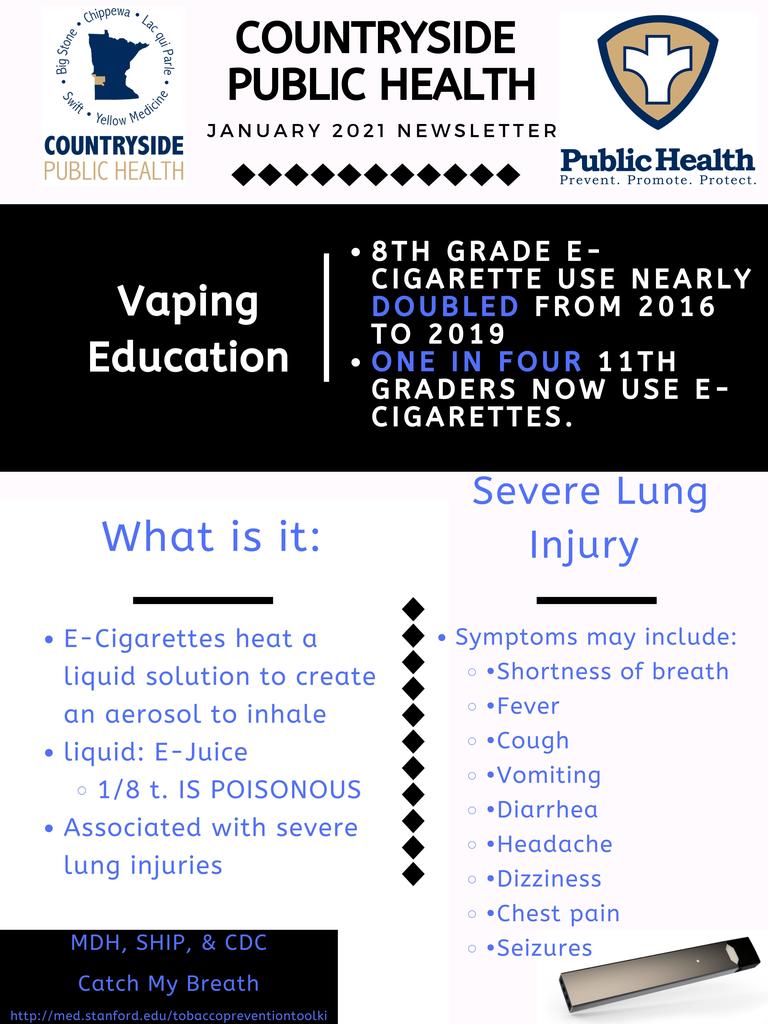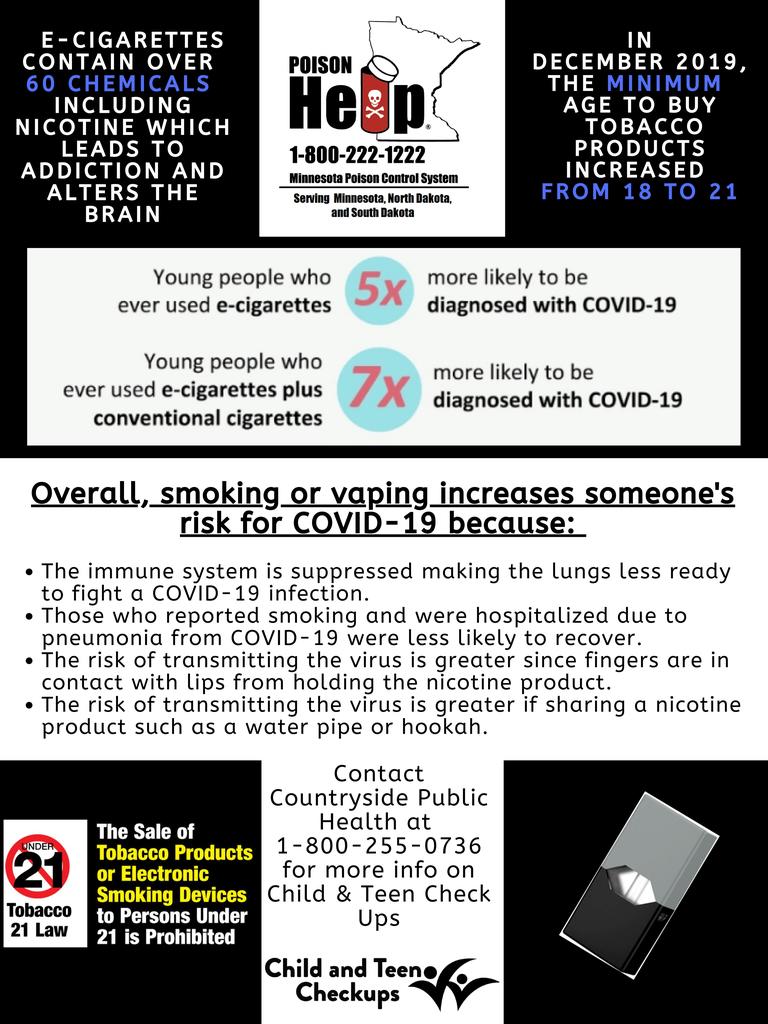 Escape the Vape

Hello - The University of Minnesota Extension Center for Family Development is offering FREE webinars January - March around the topics of finding balance and disaster preparedness. In addition, some webinars will be offered in Spanish. Check out these series: Finding Balance Webinar Series Mindful Eating - January 20; 3-4 pm Quick Meal Ideas; February 2; 3-4 pm Rural Stress and Ambiguous Loss; February 8; 1-2 pm Money Talk; February 16; 11 am-noon or 6-7 pm Mental well-being in the midst of isolation: how do we re-energize; February 24; 10-11 am Who gets grandma's yellow pie plate?; March 4; noon-1 pm Advance care planning: now more than ever; March 11; 11 am-noon When it's family: financial exploitation of older adults; March 18; 1-2 pm Disaster Preparedness Webinar Series Preparing your finances for disasters; January 27; 10-11 am Preparing your insurance for disaster resilience; February 3; 2-3 pm Preparing your "grab and go' file: Organizing important papers; February 17; 2-3 pm Food for your family in a disaster; March 9; Noon-1 pm Make a plan, build a kit, prepare your family for disaster; March 30; 6:30-7:30 pm Webinars Offered in Spanish Crédito: Su Importancia, Cómo Mejorarlo y Usarlo; January 28; 6-7 pm Como organizar y guardar en un lugar seguro los documentos importantes; February 25; 6-7 pm Presupuesto familiar: Planificación y Formas de Ahorrar en Alimentos; March 25; 6:30-7:30 pm We invite you to participate in these webinars and encourage you to share these opportunities with your friends and family, networks, and program participants. Please see the attached flyers for webinar descriptions, dates, and registration information. For more online programs: Check out our UMN Extension Family News to stay current with information, resources, and programming. Also, follow us on Facebook and Twitter @UMNExtFD. To find additional online offerings from all program areas, visit the University of Minnesota Extension events and courses page. New to online programs? Our online webinars are offered using Zoom. If you have not used Zoom before, please check out this resource to learn how: Please let me know if you have any questions about these webinars or are looking for different online family programming topics. Have a great day! Sara -- Sara Croymans, MEd, AFC Extension Educator & Extension Professor | extension.umn.edu University of Minnesota Extension Center for Family Development 46352 State Hwy. 329 Morris, MN 56267
croym001@umn.edu
| Office 320-589-1711 | Cell 320-226-6052 (pronouns: she, her, hers) Learn about Military Families Learning Network (MFLN) Family Transitions Follow us on: Facebook - @MilitaryFamilies Twitter - @MFLNFT

HIGH SCHOOL STUDENTS ELIGIBLE FOR PANDEMIC UNEMPLOYMENT BENEFITS A group of high school students and Youthprise, supported by youth organizations and the Minnesota Attorney General's Office, sued the state of Minnesota for high school students who lost wages after January 27, 2020, due to the pandemic. On December 1, 2020, the MN Court of Appeals ruled in favor of students. The DEADLINE for Applications is December 25, 2020. PLEASE SHARE THIS INFORMATION WITH ALL HIGH SCHOOL STUDENTS AND THEIR FAMILIES Learn more here Step by Step Application Guide Here. MACS LEGISLATIVE PROPOSALS The legislative proposals of the Association annually deal with a full spectrum of issues – school funding, school facilities, autonomy, and accountability. Today, we want to share a few proposals that have been part of the Association's legislative agenda. MARKET NEED & DEMAND STUDY One of the components of the Association's legislative agenda during the last session was a proposal which would institute a Market Need & Demand Study as a prerequisite component of an application for a charter. The legislative proposal defines the elements which a Market Need & Demand Study would need to include. The goal of the Market Need & Demand Study is to reduce the number of schools (now about 50%) that are approved but never open, or close within the first year because there really was not a market for the school or its program. Our hope is that MDE will also include this proposal in the Department's 2021 Legislation. CHARTER SCHOOL ADMINISTRATOR TRAINING & EDUCATION While the Association has from the beginning opposed, and continues to oppose, requiring the licensing of charter school administrators, we do support that all charter school administrators need ongoing education and training. The Association's legislative proposals regarding the education and training charter school administrators include: Establishing a requirement that every charter school administrator have at minimum a four-year degree from an accredited institution Redefining the job qualification areas currently in law Clarifying that all school administrators must have a professional development plan Defining competency-based education/training for administrators Requiring licensed administrators new to charters to take training on chartering issues CONFLICT OF INTEREST PROVISIONS The Association has been working with the MN Board of School Administrators over the last year on legislative language regarding conflict-of-interest issues involving licensed charter school administrators. The legislative proposal's goal is to address issues that are the basis of Code of Ethics complaints filed against licensed and about non-licensed charter school administrators with the Board of School Administrators. While the MN Board of School Administrators does not have jurisdiction over non-licensed administrators in charter schools, the MACS Board is examining the issue given the number of complaints filed with the Board of School Administrators. If the charter school community does not address the issue of Ethics of non-licensed administrators, it would not be surprising if others move to do so. COALITIONS TEACHERS OF COLOR COALITION MACS is a member of the Teachers of Color Coalition which has legislation to increase access and funding for programs that aim to increase the number of teachers of color and American Indian teachers in public schools. As an Association committed to addressing Equity and Equitable Educational Opportunities, we will be calling on schools at the appropriate time to contact legislators to enact the legislation. SCHOOL BUS SAFETY COALITION MACS is a member of a new School Bus Safety Coalition which has legislation to require cameras on the exterior of school buses to reduce the number of injuries and deaths caused by vehicles passing school buses when the bus has the stop arm out. The cameras would be paid for from the fines paid by violators (over 5,700) during the last five years. The minimum fine is $500. MDE SAFE LEARNING MODEL DASHBOARD as of 12/7/2020 80% of Charters in Distance Learning Model 9% of Charters in Combination Model 5% of Charters in Hybrid Model 5% of Charters Doing In-person Model MN LEGISLATURE - 2021 EDUCATION COMMITTEE CHAIRS SENATE Senator Roger Chamberlain, Lino Lakes will be the Chair of the Senate Education Finance and Policy Committee. He is replacing Senator Carla Nelson who will become Chair of the Tax Committee. HOUSE Representative Ruth Richardson, Mendota Heights will be the Chair of the House Education Policy Committee. She is replacing Rep. Youakim who will become Chair of Property Taxes. Rep. Jim Davnie, Minneapolis will continue to serve as Chair of the House Education Finance Committee. MACS STATEMENT ON THE CONSTITUTIONAL AMENDMENT ON EDUCATION In November, the MACS Board of Directors approved the Association's Statement on the Constitutional Amendment on Education that has been proposed by the President of the Minneapolis Federal Reserve Neil Kashkari and retired Justice Alan Page. The Statement states that while we support making a quality education a constitutional right, it outlines our concerns about the proposed language, our hope that the legislature will address those concerns if it considers the amendment, and the Association's commitment to be engaged in the conversation about the amendment. Read the Statement MDE – OPPORTUNITIES TO COMMENT GENDER IDENTITY DATA COLLECTION AND REPORTING MDE is revising data collection systems to allow public school districts and charter schools greater flexibility in reporting students' gender identity, including the option to designate a gender other than male or female. Comments on the implementation of the collection and reporting will be accepted until 11:59 p.m. Sunday, December 13, 2020. Learn more on the Gender Identity Data Collection and Reporting RULE 3525.2810 – DEVELOPMENT OF INDIVIDUALIZED EDUCATION PROGRAM PLAN (IEP) MDE has proposed some language changes in the current rule regarding the development of IEPs. Comments on the proposal will be accepted until 4:30 PM on Thursday, December 24th. Learn more here SOCIAL STUDIES STANDARDS: FIRST DRAFT AVAILABLE FOR COMMENT The Social Studies Academic Standards are being reviewed and revised by a committee of 44 members including K-12 teachers, administrators, college faculty, informal educators, and community members. The first draft of the revised standards is now available for public comment. Comments will be accepted until Monday, January 4, 2021. Learn more on the Social Studies web page. PELSB – Guidance on Student Teachers as Substitutes The Professional Educator Licensing & Standards Board (PELSB) has issued a document entitled "Student Teachers Serving as Substitutes FAQ's"

Due to staff shortages related to COVID illnesses, school day care will be closed through the end of December. Sorry for any inconvenience.

No-Cost At-Home COVID-19 Testing For All Minnesotans Minnesota is proud to offer at-home COVID-19 saliva testing for any person who wants to be tested, with or without symptoms, at no cost. This saliva test is just as accurate as the nasal swab test and is available at no cost for every Minnesotan, whether or not you have insurance. With the COVID-19 positivity rate climbing higher than ever before, expanding access to COVID-19 testing to all communities across the state is critical to keeping Minnesotans informed and safe. More information about this partnership with Vault Medical Services is available Minnesota Department of Health's website, including information on how to order test.



The regular school board meeting will be held on Thursday, November 12, 2020 at 6:00pm. If the meeting must be conducted via Zoom, a notice will be published on the website and a Remind will be sent.

Emergency Board Meeting: this meeting is by zoom if you would like an invitation and passcode, please call or text Debbie at 320-522-3773. Purpose is to authorize change in status to distance learning related to MDE's COVID instructions.
Emergency School Board meeting, Monday, August 3, at 6:00, to discuss scenarios for re-opening.

Please read the attached update from the Governor on the Insulin Safety Net Program.​